Scenario
Frame filtering involves the configuration of white list, static blacklist and dynamic blacklist. When AP receives a data frame, it will check the MAC address of this data frame. The process of frame filtering is shown below: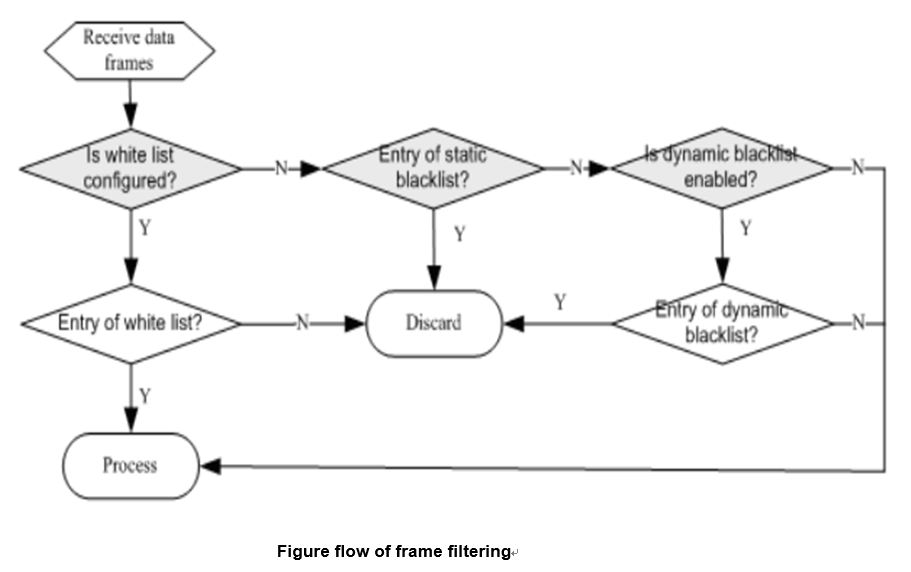 Figure flow of frame filtering
I. Requirements
Configure white list in WIDS configuration mode. When an entry exists in the white list, the corresponding client will pass frame filtering.
II. Configuration Tips
Configure whitelist based on SSID (When an entry exists in the white list, the corresponding client will access to ssid)
Configure blacklist based on SSID (When an entry exists in the black list, the corresponding client will be denied to access to ssid)
IV. Configuration Steps
Configure whitelist based on ssid:
WS5302(config)#wids
WS5302(config-wids)#ssid-filter whitelist mac-address 6809.27b0.169f in ruijie ----->6809.27b0.169f is allowed to access to SSID:ruijie
WS5302(config-wids)#ssid-filter whitelist max 256----->adjust whitelist capacity (range from 1-256, optional config)
Configure blacklist based on ssid:
WS5302(config)#wids
WS5302(config-wids)#static-blacklist ssid-mac 6809.27b0.169f in ruijie ----->6809.27b0.169f is denied to access to SSID:ruijie
WS5302(config-wids)#ssid-filter blacklist max 256 ----->adjust blacklist capacity (range from 1-256, optional config)
V. Verification
SSID:ruijie
1. When an entry exists in the white list, the corresponding client will access to ssid,STA MAC:(6809.27b0.169f、 8ca9.829a.b1ea)
WS5302#show wids ssid-filter whitelist in-ssid wireless ---check whitelist
------------------ filter white-mac List Information ------------------
num mac SSID
1 6809.27b0.169f wireless
WS5302#show ac-config client by-ap-name
========= show sta status =========
AP : ap name/radio id
Status: Speed/Power Save/Work Mode, E = enable power save, D = disable power save
Total Sta Num: 1
STA MAC IPV4 Address AP Wlan Vlan Status Asso Auth Net Auth Up time
-------------- --------------- --------------------------- ----- ----- ---- ---- -------------- --------- --------- -------------
6809.27b0.169f 192.168.20.1 1414.4b13.c248/1 1 20 58.5M/E/bn WPA2_PSK 0:01:42:11
2. When an entry exists in the black list, the corresponding client will be denied to access to ssid,STA MAC:(6809.27b0.169f, 8ca9.829a.b1ea)
WS5302#show wids ssid-filter blacklist in-ssid wireless ---check blacklist
------------------ filter black-mac List Information ------------------
num mac SSID
1 6809.27b0.169f wireless
WS5302#show ac-config client by-ap-name
========= show sta status =========
AP : ap name/radio id
Status: Speed/Power Save/Work Mode, E = enable power save, D = disable power save
Total Sta Num: 1
STA MAC IPV4 Address AP Wlan Vlan Status Asso Auth Net Auth Up time
-------------- --------------- ---------------------------------------- ---- ---- -------------- --------- --------- -------------
8ca9.829a.b1ea 192.168.20.2 1414.4b13.c248/1 1 20 58.5M/D/bn WPA2_PSK 0:00:10:24